The Great Take Back America Rally xvid.avi
Pulaski,TN. January 14th, 1989
starts at:
O:OO Scenes of Pulaski
0:07 Thom Robb
0:08 K.A.Badynski
0:09 Dave Holland
0:11 Don Sanders
0:12 Ed Novak
0:13 Thom Robb
0:14 Richard Butler
0:21 Dave Craig
0:26 Don Romine
0:26 Ma Brown
0:26 Michael Palison
0:27 Stanley McCollum
0:29 Harold Covington
0:42 Michael Hoffman II
0:55 Ed Fields
0:59 Louis Beam
1:12HR to (end) 1:23HR street activism/Pastor Butler
695 MB
1 hour 23 minutes
The audio and picture quality is low, as the vhs tape was a few generations down.
It was copied and traded a number of times before I seen it in the early 1990s.
Still, a good piece of history, at a time and place it was possible to speak your mind.
The police on the sides of the streets is just ridiculous.
Those jeering blacks seem to be outnumbered.
http://mlotek.plymouthny.net/various/Th ... .part1.rar
http://mlotek.plymouthny.net/various/Th ... .part2.rar
http://mlotek.plymouthny.net/various/Th ... .part3.rar
http://mlotek.plymouthny.net/various/Th ... .part4.rar
http://mlotek.plymouthny.net/various/Th ... .part5.rar
http://mlotek.plymouthny.net/various/Th ... .part6.rar
http://mlotek.plymouthny.net/various/Th ... .part7.rar
intro screen
Pastor Richard Butler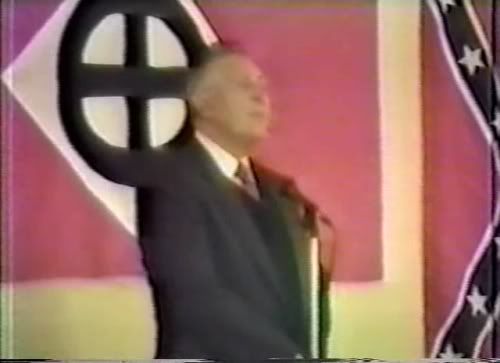 Harold Covington
Louis Beam